Recently one of my friend asked me what is difference between elastic IP and Puplic IP in AWS? and I explained him, So I decided to post a article about it.  So in this article I will explain you difference between elastic IP and Public IP in AWS.
What Is Elastic IP Address In AWS?
Elastic IP is IPv4 address designed and exist for dynamic cloud computing and reachable over internet. It is a flexible IP address which can be used or mapped from one EC2 instance to another when currently associated instance fails. Assign an elastic IP end user or application continue to communicate to same IP even even if instance behind it fails. They are used like static Public IPs allocated for your AWS account.
What Is Public IP Address In AWS?
Public IP address is used to pulically which is reachable over internet. Switching flexibility of elastic IP is not available for this IP in Amazon. It also assign Public DNS to instances who receives public IP address. Public IP address of instance is mapped to primary private IP address of that instance via NAT (Network Address Translation) by default.
Find the below screenshot from EC2 console of AWS from where you can check your elastic IP, Public IP and Public DNS name.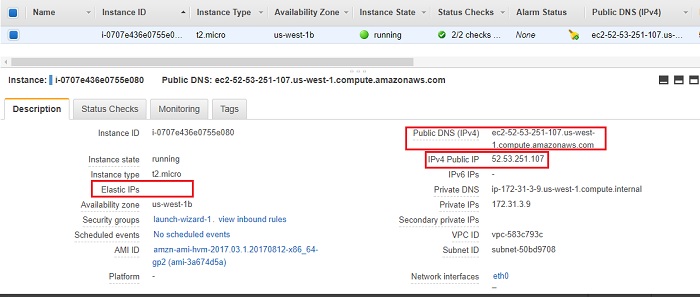 Thanks:)
Thank you! for visiting LookLinux.
If you find this tutorial helpful please share with your friends to keep it alive. For more helpful topic browse my website www.looklinux.com. To become an author at LookLinux Submit Article. Stay connected to Facebook.